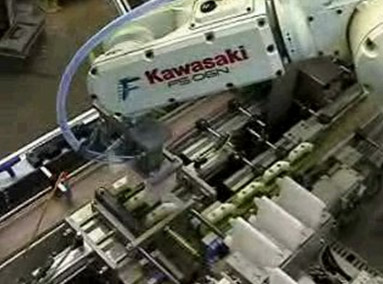 PAK Automation have recently completed the successful installation of a Kawasaki Six Axis Robot model FS06N.
The Kawasaki Robot in this cell is carrying out a puck loading task. Three plastic vials types are handled on the system with the one gripper tool.
The vials are loading into a feed elevator and fed into a vibratory bowl feeder where they are orientated. On the outfeed of the bowl feeder a conveyor takes the vials lying down to a turning device to carry out final alignment, so all vials are neck leading.
A three way escapment clamps and holds the vials and presents them at the required centres for the robot to pick them and place to the pucks which have been marshalled in to a clamping station which holds them side by side for loading.
The high repeatable accuracy of the Kawasaki 6 axis robot (0.01mm) ensures accurate placement at speeds of up to 40/min.