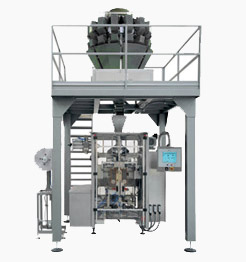 PAK Automation's Vertical Form/Fill/Seal solutions are ideally suited for the packaging of a wide range of solids and liquids like powders, beans, coffee, sweets, nuts, soups, fruits, lotions, rice, soil, water, ink, and juices. We offer an array of dispensing fittings for the specific requirements of our customers.
Our range of fully automated Vertical Form/Fill/Seal Machines  can be supplied as is, or, designed as part of a complete with a product infeed system, outfeed conveyors and bag turners and flatteners.
Our Vertical Form/Fill/Seal Machinery is fully automated with an easy to use touch screen. It can also be fitted with a wide range of conveyors and has a bagging speed of up to 110* bags per minute. Pak Automation Ltd manufacture vertical form fill seal machines in both stainless steel and mild steel.
Features include:
Low vertical height, Mitsubishi PLC controls, Touch screen operator interface with diagnostics, Push button tracking, Robust construction, Forming set (of your specification), Powered film unwind, PID temperature controls, Full guarding and monitoring relay, Constant heat sealing system, CE marked, Gas flushed attachment, SMC pneumatics, Bag length via encoder, Interface controls to elevator, No product no bag interlock
Optional Features include:
Hot Foil Printers, Thermal Printers, Multihead Weighers, Linear Weighers, Auger Fillers, Check Weighers, Volumetric Cup Fillers, Metal Detection