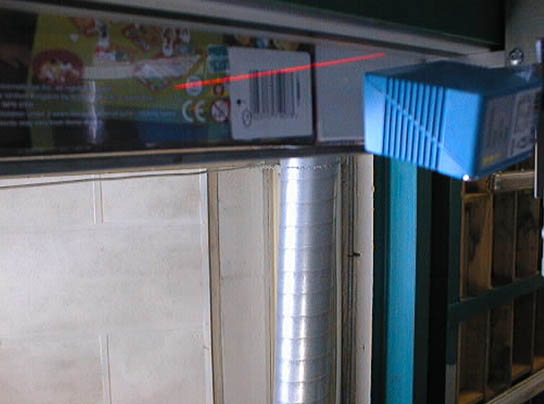 Clients know that when they have a packaging problem PAK will find the best possible solution at the most cost effective price.  Such was the case recently when a customer required a barcode scanning solution for their EAN13 barcodes.  The system had to be capable of detecting barcode labels, applied by a Pago applicator on the undersides of shrink-wrapped boxes, on a line running at 60 ft per minute.
The obvious choice was a SICK CLV410. The CLV410 was chosen due to its ability to operate as a standalone unit.  It has one programmable digital input which was used for the trigger signal, and three programmable digital outputs configured to act as a "stop on detect" if no valid EAN13 barcode is present upon receipt of a valid trigger signal.
The versatility of the CLV410, coupled with its high scanning frequency (up to 800Hz), ensures reliable security of this labelling system. An added benefit of the system is that it does not require a PLC to operate.
ENDS
For further details contact:  Michael McHugh, Managing Director
T:  +353 (0) 1 628 2824 | E: md@pakautomation.com
Auger Filling Systems, Bag Sealers, Cartoning Machines, Conveyor Systems
Flow Wrapping Machines, Hot Foil, Off-Line and Thermal Printers, Linear and Multi-Head Weighers
Metal Detectors, Pick and Place Machines, Pre-Owned Range of Equipment
Robotic Systems, Turnkey Solutions, Vertical Form/Fill/Seal Machines