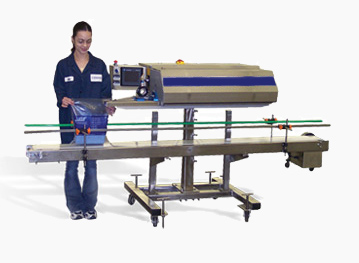 The Medical Band Supersealer MBS offers the best controls package for Medical companies. With a PLC with touchscreen monitoring all variables all the time, the machine offers an optional Ethernet Connection to record all pouches being sealed right into your PC. The PLC enables all information required for easy calibration. Change of machine setting is as easy as a touch of a button.
With this machine you do not have to fear for a pouch being out of parameter setting. The Supersealer MBS has an automatic reverse. The machine basically goes in reverse if the parameters are out of settings. The machine NEVER allows a pouch to be sealed out of its parameters.
The Supersealer MBS Medical Band Sealer is a rotary band sealer designed to meet guidelines for the Medical Packaging Industry. It seals a wide range of medical packaging materials including Plastic, Tyvek, Mylar, Pet, Coated Tyvek, paper and plastic, laminated foil and metalized foil bags. The stainless steel construction of the Supersealer in combination with advanced band sealing technology and state of the art process controls ensure continuous duty performance in demanding applications.
Technical Specifications:
Bag size range: All bag sizes
Bag range material: Sealable up to 10 mill.
Speed: Up to 40 fpm (12 meters/min.)
belt speed.
Seal wheels: 3/8″ wide.
Machine handling: Either right to left
or left to right.
Power: 115 VAC, 1 Ph, 60 Hz, 10 Amp
or to requirement..
Pneumatic: 10-100 psi clean dry air required.
Stainless Steel finish: Clean and durable
Complete process calibration:Meets
FDA guidelines for medical industry.
Heavy duty band sealing technology:
Optimum seal quality and performance.
Touch screen operator interface:
Easy system control and monitoring.
Product recipe storage: Easy
product change over with minimal operator training.
Ethernet connection: Simple connection
to computer network for complete process monitoring.
Real time data acquisition & data logging:
Easy access to process data to meet FDA requirements.