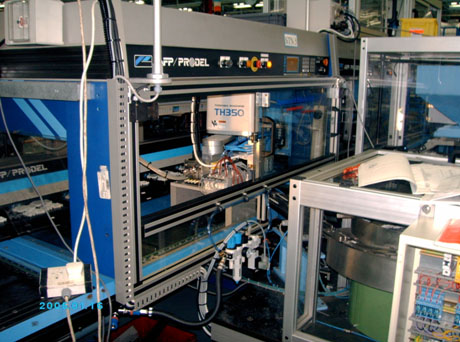 PAK Automation have recently completed the successful installation of a Toshiba 4 Axis Scara Robot model TH350.
The Toshiba Robot was selected for this high speed assembly task due to its exceptional repeatable accuracy and its compact size which enabled us to locate the robot inside one of the stations on an existing automatic assembly machine. The line has 38 stations and it produces Miniature Circuit Breakers (MCBs) at a rate of 24/min.
At station 5 the Toshiba robot replaced an existing pneumatic pick and place but had additional tasks to carry out within the same cycle time.
The original system could not come near the required cycle time and the Toshiba TH350 was the logical choice.
The Robot was installed over a long weekend and interfaced through the Robot controller to the existing line equipment. For more details of this application get in touch.
A more in depth article  on this case, courtesy of Toshiba's UK website, can be found here.