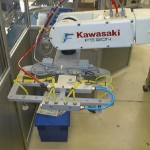 PAK Automation have recently completed the successful installation of a Kawasaki Six Axis Robot model Fs 20N for a healthcare manufacturing company running a three shift cycle.
The Kawasaki Robot in this cell is picking and placing sealed blister packs which have been sealed on an RF Welder and transferring them to a servo driven transfer mechanism to load a Flywheel Press.
The tooling on joint 6 of the robot is twin tooling enabling the robot to pick up two blisters at a time and release them one at a time, this design was critical in achieving the required cycle time of twelve cycles a minute.
The Kawasaki robot was chosen due to its ease of programming, its flexibility, the simple operation interface and repeatable accuracy. Line efficiencies have significantly improved since installation, so much so that the customer has now decided to invest further in Robotics & Automation.