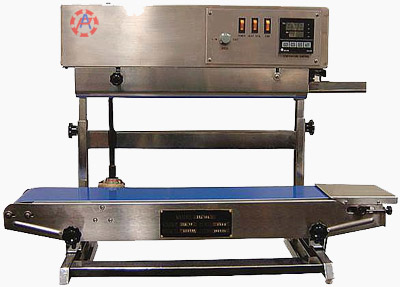 Band sealers are the ideal solution for sealing plastic bags of any size and length. A conveyor belt carries the loaded bag through the sealer. There are horizontal and vertical models. Vertical band sealers are ideal for bags containing easily spilled items such as powders, liquids, grains, etc. These sealers consist of a frame, power switch, speed regulator, cooling fan, electronic temperature controller, adjustable conveyor. The option for an embossing printing wheel is available.
The sealing bands, drive belts and conveyor are controlled by one motor. When  turned on, the temperature controller begins heating the sealing blocks. The temperature setting and the speed setting depend on the type and thickness of material being sealed. The bag passes through the sealing blocks, cooling blocks and embossing wheel. Continuous band sealers are available with right to left or left to right operation.
Band sealers are simple  to operate. Turn on the power and set the temperature on the temperature controller. When the preset temperature has been reached, place the bag at the positioning plate bag guide. The sealing bands carry the bag through the band sealer to seal the bag.  Once processed the sealed bag is delivered automatically, no pushing or pulling is required.