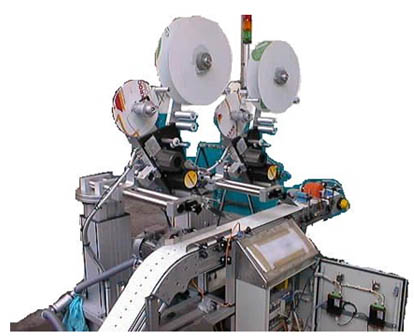 Pak Automation Ltd have recently completed a special purpose labeling system for accurately labeling plastic lids which come off an injection moulding machine.
The customer opted for a high speed machine which was fitted with Master and Slave label applicators thus ensuring the labels never run out as the applicators automatically changeover from one to the next towards the end of the roll of labels.
The conveyor had to be designed to be a vacuum belt as the infeed had to be inclined and the vacuum holds the lids in place on the belt. The system was fitted with a variable speed drive and a Mitsubishi PLC for overall system controls.
The label applicators were mounted on electrically operated height adjustable columns with pre-programmed positions. This enabled the PLC to automatically bring the active labeller down to the right height over the product and when not in use the applicator returns to a safe height above the product so as to enable the operator to fit a new roll of labels whilst the system continues to run.
As space on site was restricted the overall system could not occupy any more than 2.2 metres in length.