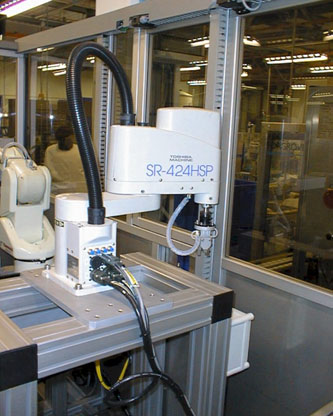 PAK Automation has recently completed the successful installation of a Toshiba Scara Robot. The model SR-424-HSP is part of  a cell for filling, capping and labelling containers. The robot can pick six different sizes with capacities up to 120ml.
The containers are taken from a puck used in the upstream operation for filling capping and labelling containers. The puck is gated into position and the containers are picked out at speeds which allow 40 per minute to be placed into an offline jig to assemble a collation of the required number of containers.
Once collated in batches of two and four, a second robot places the collated product into an automatic bander. The products are then banded and released onto the outfeed conveyor.
The Toshiba robot was chosen due to its ease of programming, its high speed and repeatable accuracy. Line efficiencies have reached 99.94% since installation. The customer specified a MMI for the cell and a touch screen was fitted to relay which product is running, the MMI also reports the diagnostics from the robot and the current status.