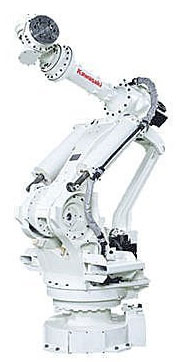 Kawasaki's latest robot is the 'M series' which offers a maximum payload of 500kg and incorporates a compact profile design with long reach and high wrist torque of 3920Nm.
Its superior design gives it the power to lift and manipulate heavy loads with great ease and high performance accuracy. High payload robots conventionally require a large counterbalance weight which increases interference and reduces the work envelope.
Innovative design of an advanced link structure has eliminated the need for this counterbalance resulting in a robot with an attractive compact profile.
The M series presents three robot models all with extensive working envelopes with large payloads covering 350kg to 500kg and maximum reach from 2540mm up to 3018mm. The high wrist torque of 3920 Nm has been achieved with the MX500N robot by using high power motors, normally only used in the major axes, across all 6 robot axes. This enables the rated payload to be carried at a significant offset from the wrist flange surface.
With collision detection and soft absorber control software, the robot can manipulate large loads both smoothly and safely. They are ideal for lifting engines, manipulating car bodies, handling of large tools between processes in the automotive field, the movement of large castings, rocks, construction materials and large domestic appliances in the general industrial area.
Auger Filling Systems, Bag Sealers, Cartoning Machines, Conveyor Systems
Flow Wrapping Machines, Hot Foil, Off-Line and Thermal Printers, Linear and Multi-Head Weighers
Metal Detectors, Pick and Place Machines, Pre-Owned Range of Equipment
Robotic Systems, Turnkey Solutions, Vertical Form/Fill/Seal Machines