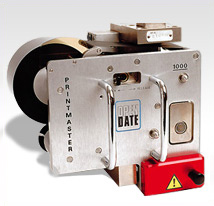 The Printmaster range of Hot Foil printers have a worldwide reputation for quality and reliability whilst the print speed potential is unrivalled. The Printmaster 'S' can produce an overprint in less than 50 milliseconds giving attainable operating speeds on excess of 1200 prints per minute, making it the fastest on-line contact coder on the market today.
Up to 50x40mm print area
Speeds up to 1,200 ppm
End of foil alarm
Optional digital controller
Easy loading foil magazine
Variable temp. control
Superfast warm up times
* Controls supplied with multi-turn dwell potentiometer as standard.
Features
Minimal Downtime
Printmasters feature an easy change foil magazine with automatic foil drive location system enabling downtime for foil replacement to be kept to a minimum.
Control Unit Standard
All Printmasters are supplied with an electronic control unit, standard type holder and solenoid valve. They are simple to use and require mimimal maintenance.
Comparison
SPECIFICATIONS

PRINTMASTER 1000

PRINTMASTER PLUS

PRINTMASTER "S"

Print Area

50 x 25mm

50 x 40mm

50 x 20mm

Operating Speed €" Maximum

700 per minute

300 per minute

1200 per minute

Cycle Time €" Minimum

80 milliseconds

175 milliseconds

30 milliseconds

Air Cylinder

40 dia x 13mm

40 dia x 13mm

40 dia x 7mm

Free Air Consumption per Cycle

228cc @ 6.8 bar

228cc @ 6.8 bar

122cc @ 6.8 bar

Dwell Time Range

12-650 ms

12-650 ms

*6-360 ms

End of Foil Alarm

Standard

Foil Capacity

305m (1000€™)

Foil Width €" Maximum

58mm

Foil Feed Adjustment

Positive, accurate and infinitely adjustable

Air Pressure

4.0 to 6.8 bar (60 to 100 PSI)

Print Head Dimensions

195 x 223 x 160mm

Printer Weight

5.25kg (11.5lbs)

Temperature Range

Variable between 70 and 220 degrees C

Operating Voltage

110 or 240v AC, 50/60 Hz

Control Unit Dimensions

240 x 145 x 66mm