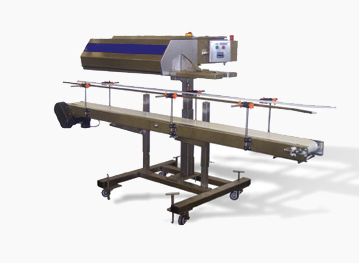 The Supersealer SB30 High Capacity Bandsealer has a lift hood for easy access to the interior of the sealer, where you can see all the Stainless Steel components including bottom plates. The Supersealer has quick releases on the band tension for easy band change over. These and many more features describes the new innovative Supersealer SB30 designed to create the "Perfect Seal" for applications like meat and poultry.
Technical Specifications:
Bag size range: All bag sizes
Bag range material: Sealable up to 12 mill.
Speed: Up to 60 fpm (18 meters/min.)
belt speed.
Seal wheels: 1/2", 3/4" wide.
Machine handling: Either right to left
or left to right.
Power: 110 VAC, 1 Ph, 60 Hz, 10 Amp.
Pneumatic: Unrequired for the standard
configuration of the machine.
Stainless Steel finish: Clean and durable,
preferred in food and other industries.
Variable speed:Output can be increased or
decreased with a turn of a screw.
Easy lift front cover: Quick access
to all components.
Mobile base, adjustable height pedestal:
Simple set up and adjustment.