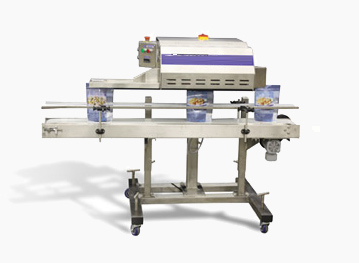 The Supersealer SB20 Rotary Band Sealer is the ultimate bandsealer. With its Stainless Steel finish it is clean and durable, preferred in food and other industries. The heavy duty stainless steel construction, in combination with proven band sealing technology, and operator friendly controls, ensures continuous duty performance in demanding applications.
The band sealer can be equipped with Crank Stands, Bag coders and printers, Bag support conveyors, Bag top trimmers/trim removers and Scales and Auger fillers.
Technical Specifications:
Bag size range: All bag sizes
Bag range material: Sealable up to 12 mill.
Speed: Up to 75 fpm (36.5 meters/min.)
Seal wheels: 5/16″ wide.
Machine handling: Either right to left
or left to right.
Power: 110 VAC 1 Ph, 60 Hz, 10 Amp.
or based on your requirements.
Pneumatic: Unrequired for the standard
configuration of the machine.
Stainless Steel finish: Clean and durable.
Variable speed: Ease of matching conveyor
speeds and flexibility.
PID Temperature Controls:
Accurate and consistent sealing temperature.
Easy lift front cover: Quick access
to all components.
for a variety applications.
Mobile base and adjustable
gas strut pedestal:
Simple set up and adjustment.