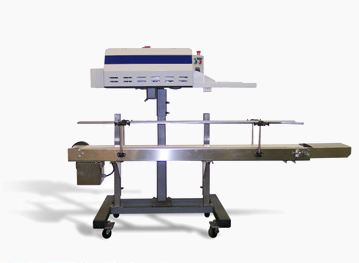 The Supersealer SS2 Hot Air Bag Sealer is the only "washdown Bag Sealer" available on the market. The stainless steel construction of the machine in combination with advanced air flow and push button controls, ensures performance in demanding applications every time. The Bag Sealer will run up to 120 fpm and will seal materials up to 40 mils.
It utilizes hot air to continuously seal a wide range of bag materials at high speed and efficiency. The advanced airflow, sophisticated controls, and rugged painted or stainless construction ensures continuous uptime performance in all applications.
Technical Specifications:
Bag size range: All bag sizes
Bag range material: Sealable up to 40 mill.
Speed: Up to 120 fpm (36.5 meters/
min.) belt speed.
Seal wheels: 1/2", 1/4" plain or textured.
Machine handling: Either right to left
or left to right.
Power: 115 VAC, 1 Ph, 60 Hz, 15 Amp.
or to requirement.
Pneumatic: Not required for standard
configuration.
Hot air sealing technology: Optimum
seal quality at low maintenance.
Variable speed: Ease of matching conveyor
speeds and flexibility.
Fuzzy logic temperature controls:
Accurate and consistent sealing temperature.
Mobile base, adjustable height pedestal:
Flexibility to meet all varieties of applications.