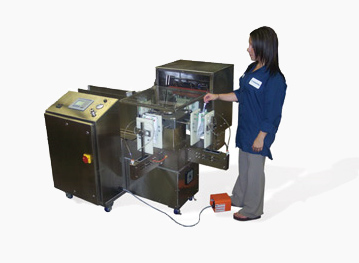 The Pouchpack Automatic Pouch Handling System automatically takes one to four pouches from a magazine, opens them with a robotic arm, fills them and then seals the pouches.
.
This machine can be used in many configurations. The PouchPack can run layflat and/or stand up zip pouches.
.
The pouches can also receive either a label or an ink jet code. Filling can be done by employees, robots or using  scales. Pouch sealing can be basic, have air evacuation or gas flush.
The 4 station rotary head utilizes a heavy duty Camco indexer for optimum production and operator performance. A specific and unique task is accomplished at each station:
-Pouch setup from magazine Label, RFID, or bar code application
-Manual or automatic product filling and
-Sealing with optional date coding, gas flushing, or vacuum sealing
The result is a complete pouch filling system suitable for a wide variety of packaging applications, including seed, components, and biomedical devices.
Technical Specifications:
Pouch range size: Up to 12″ x 12″.
Pouch configuration: 1, 2, 3, or 4 up.
Pouch material: All types of materials
and gauges.
Power: 115 VAC, 60 Hz.
Vacuum: Self-contained vacuum pump.
Materials: 304 stainless steel, anodized
and or hard coated aluminum, and
approved plastics.
PLC: Allen-Bradley or Siemens.
Weight: 500 lbs.
Indexer: Camco.


Stainless steel – anodized aluminum build:
Clean and durable, preferred in medical applications.
Adjustable pouch magazine: Application
flexibility and changeover.
PLC controller with operator interface:
Increases operator performance.
Data acquisition for sealer: Validations of
machine made simple.
Handles wide variety of pouch materials:
Faster return on investment.