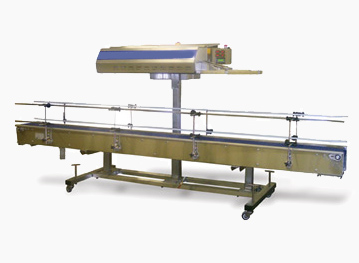 The Supersealer HCA High Capacity Heat Bag Sealer is our High Capacity Stainless Steel model. Operator protected but also easy to access variable speed. The Supersealer HCA is for applications that require high speed for thick bags or to be incorporated in complete automatic lines.
The Supersealer HCA High Capacity Hot Air Bag Sealer is a continuous heat sealer designed to meet the most demanding applications. Its stainless steel finish, heavy-duty construction, and increased heat capacity enables sustainable high-speed output. The Supersealer HCA provides consistent worry-free long term reliability for a wide range of tough sealing products.
Technical Specifications:
Bag size range: All bag sizes
Bag range material: Sealable up to 40 mill.
Speed: Up to 120 fpm (36.5 meters/
min.) belt speed.
Seal wheels: 1/2", 1/4" plain or textured.
Machine handling: Either right to left
or left to right.
Power: 115 VAC, 1 Ph, 60 Hz, 20 Amp.
or to requirement.
Pneumatic: Not required for standard
configuration.
Stainless steel finish:
Clean and durable.
Hot air sealing technology:
Optimum seal quality at low maintenance.
Hot air sealing technology: Optimum
seal quality at low maintenance.
Variable speed: Ease of matching
conveyor speeds and flexibility.
Fussy logic temperature control:
Accurate and consistent sealing temperature.
PLC control with operator display:
Reliable and operator friendly.
Mobile base and adjustable pedestal:
Simple set up and adjustment.