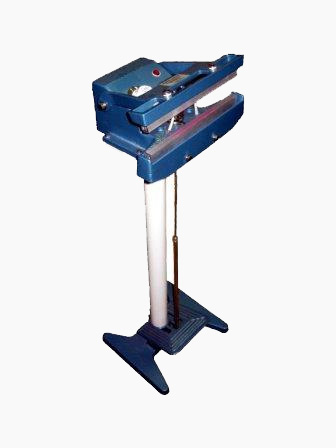 Constant Heat Band Sealers are excellent for sealing polyethylene film, aluminum foil coated bags, poly-cello films, humidity-proof cellophane films and gusseted bags. PAK Automation's Constant Heat Band Sealers provide greater efficiency by allowing faster throughput as the operator has both hands free to handle the product.
Constant Heat Band Sealers are used for bags with large widths. Generally speaking bags with a seal thickness of half an inch can be accommodated and the bag should be two inches smaller than the seal width of the Constant Heat Band Sealer. The sealer operates effectively in moderate packaging environments.
The sealers work by briefly heating the bag along a strip. Each unit is equipped with a temperature controller and a sound signal to notify sealing completion. Each machine is mold cast and painted electrostatically for durability. Each Constant Heat Band Sealer comes complete with foot control, pedestal, stand and adjustable work table. All our Heat Sealers are manufactured to ISO-9001 standards.