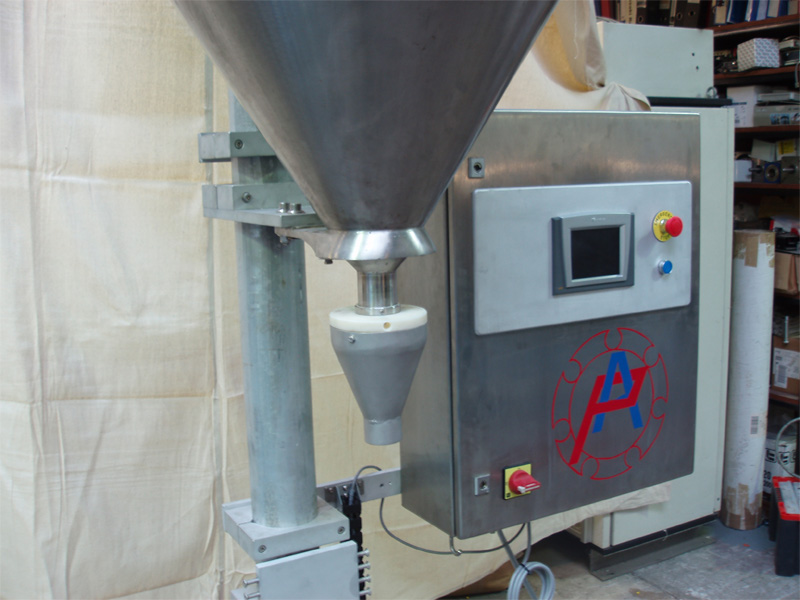 Pak Automation Ltd have been involved in manufacturing and supplying auger filling systems for many years and the WEIGHT CONTROLLED AUGER FILLER is a tried and tested solution to filling powders accurately, from low target weights of 10 grammes up to the larger fill weights of 25Kg.
The Auger filler which is most common in the Pedestal model configuration is equipped with a Loadcell which is directly connected to the control electronics. A suitable platform or bag clamp is mounted off the loadcell and the bag or container to be filled becomes part of the overall tare weight of the platform once the start cycle has been initiated.
The Controls start the main drive motor running at the preset "Fast Speed" until a weight equal to the Bulk Cut Off Weight is dispensed at which time the Main Drive Motor and the Auger slows down to the preset "Slow Speed". The Drive stops rotating at the Fine Cut Off Weight and the remainder of the achieved weight is made up of the product in flight and can be compensated and controlled by the automatic In-flight Correction.
The parameters below can be accessed in the password protected menus of the machine controls:
Target Weight
Bulk Cut Off Weight
Fine Cut Off Weight
Fast Fill Speed
Slow Fill Speed
A number of other parameters are accessible which enable the machine to cope with difficult product handling characteristics.
Options on Weight Controlled Auger Fillers
Automatic Feedback (Trending) to Checkweigher
Data collection and export to local PC via Ethernet Comms.
Infeed Horizontal Screw Feeders
Automatic level control in Auger Hopper
Product specific tooling to handle
Spinner Plate
Feed into Weigh Pan